This season we will take you on a journey to a distant galaxy among the stars, with floating pine trees and dragons !
I was discussing current events with my companion and the emotional shock we felt about how powerless we are. And he said, "We need to spread the message; a message of love." In that moment, "Warrior of Love" was born.
In these times, love is our best weapon. Alice, our heroine, is determined to save the world this season! She forms an army with her friends to impart her value of love with magical laser beams, flowers and soap bubbles.
This is the spirit of this season: to be a "Warrior of Love" with us and arm yourself with cuddly toys to fight - as they are less painful than bullets.
Alice invites you to experience the resonance of MiniMe Monsters, a wholesomely chaotic combo featuring patches on jeans, poo on shirts, and faces on hats. The dissonance of loud tears and cheeky emoji will make you pleasantly incensed. Why? Because we can.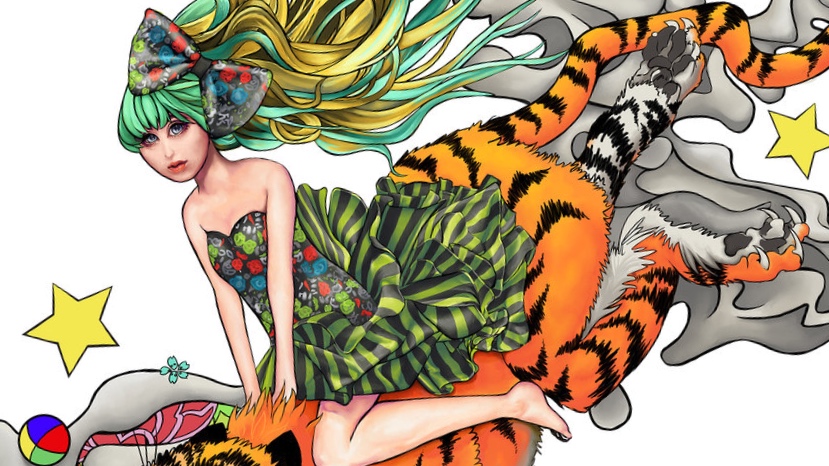 The World's Most Marvelous MiniMe Circus is proud to present to you an amazing and awe inspiring collection that will delight the eyes and senses with vivid colors and clever punning. Tigers! Koi! Goldfish! Gaze upon our menagerie of beautiful ukiyo-e influenced beasts and caper with colorful hand-painted disco inspired prints.
MiniMe 'N Roses is a more mature, even melancholic, while still fantastic collection. It evokes imagery from Beauty and the Beast as well as love songs. Roses embody the essence of the collection. These motifs are represented in various media including tweed, hand-painted leather, and felt.
The collection is filled with messages such as "Don't kill me" and "Paris mon Amour" ("Paris my love") reflecting the mood in Paris in light of recent terrible attacks. These sentiments can be seen in the lining of the clothing and engraved in the leather hats like an irreversible tattoo.
Mini Happy Me continues to follow the adventures of Alice after she has suddenly "grown up". First Alice visits MiniMe Land, an amusement park, which sets the mood for this season's collection. In Flamingoing Alice dances with the flamingos, then floats with the balloons in Balloon Party.
The collection includes several playful takes on pieces from last season's winter collection, including Gloria (fringe headband) in vibrant colors and candy stripes, as well as variations upon the bicolor Jack hat. New pieces such as Sunny (hand-crocheted sunglasses) and Nina (tricolor hat) are also introduced.
There are three fabrics that really carry the collection: denim, a graffiti cotton tweed, and a custom Mini Happy Me print lining depicting everything that makes summer fun from ice cream and palm trees to flamingos! The graffiti tweed and denim give the collection a casual street spirit, while the Mini Happy Me lining makes it unique.